Top 5 iPad Presentation Apps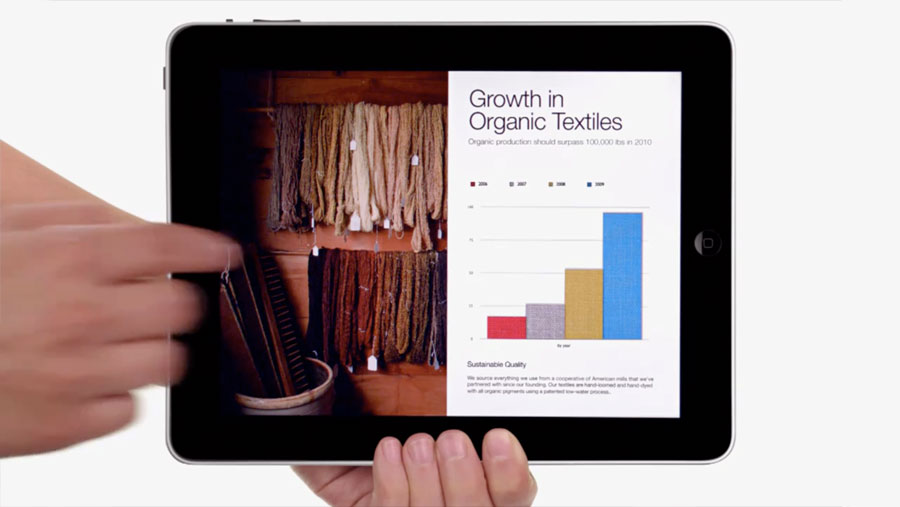 Whether you're pitching new prospect, or simply persuading a friend, the iPad has turned boring lectures into interactive discussions.
And thankfully, death by PowerPoint is a thing of the past.
The casual, intimate nature of holding or passing a hand-held device changes the dynamic of trying to get your message across.
These 5 iPad presentation apps will help you captivate your audience, inspire and motivate others, or simple get your point across.
1. SlideShark
Used by sales professionals and other presenters worldwide, SlideShark makes sharing PowerPoint presentations a breeze.
This award-winning app can be accessed through the iPad, iPhone, and iPod Touch and is continually praised for its accessibility and accuracy.
SlideShark's robust list of features includes the ability to upload PowerPoint files from the SlideShark site and open PowerPoint email attachments, present offline, connect to a projector or TV, and more. Additional features may be purchased through a premium plan.
2. Keynote
Keynote is an iPad, iPhone, and iPod touch app that allows users to easily create world-class presentations complete with animated charts and transitions.
With a robust set of features including the ability to add text, images, charts, tables, and shapes to Apple-designed themes, Keynote has the capabilities to create presentations that are sure to impress.
Keynote costs $9.99 but (as of this year) is free for new iOS devices.
3. Prezi
Designed exclusively for the iPad, Prezi allows users to easily create presentations by adding text and images to a wide variety of stunning templates.
Prezi also lets users zoom in and out of content, retouch and adjust presentations on the go, access presentations online, easily insert images from the web as well as the iPad's photo library or camera, and many other easy to use features.
The best part? Prezi is completely free.
4. Flowboard
This free iPad app lets users create fun, interactive and engaging presentations with images, text, videos, PDFs, and more.
Flowboard also lets users easily share presentations and view other ones within the Flowboard community for inspiration and ideas. For those looking to easily create fun, stylish, and entertaining presentations, Flowboard is an excellent option.
5. Haiku Deck
Referred to on Mashable as "The Instagram for pitch decks," Haiku Deck lets users create and share inspiring presentations with ease.
Haiku Deck offers user-friendly features including simplified text, high –impact imagery, clean and consistent formatting, powerful image searching abilities, easy chart creation abilities, and much more.
The free app allows users to present decks with an iPad, iPhone, projector, or web browser and easily share decks via email, Twitter, or Facebook.
Conclusion
The most effective presentations inspire, captivate and motivate.
With one of these 5 iPad presentation apps, you're able to easily transform stale talks into exciting experiences.
And there's no better tool in a business person's arsenal than the iPad.